About Ixtapa, Mexico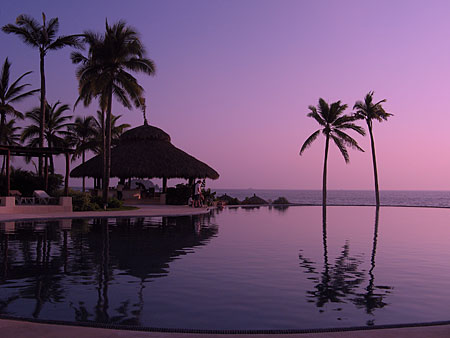 Ixtapa-Zihuatanejo
Ixtapa-Zihuatanejo, on the "Mexican-Riviera" is located in the northwestern part of the state of Guerrero, 150 miles up the coast from Acapulco. It borders a wide bay dotted with small rocky islands inhabited by sea birds. The average daily temperature range from 80 degrees F to 95 degrees F and has more than 230 sunny days per year, which makes it an ideal holiday destination from October through May.
World Class Resort
Ixtapa is a world-class modern resort with beautiful beaches, 2 golf courses, restaurants, shopping and a 600- slip yacht marina, a nautical ambiance with restaurants and shops and the new 18 hole Marina Golf Course. The beach in Ixtapa (Playa del Mar) is a two-mile stretch of white sand that gave Ixtapa its Nahuatl Indian name "the white place". The smooth offshore breezes make it a choice location for parasailing, sailing and windsurfing. They also offer Jet Ski and water skiing rentals.
Zihuatanejo Fishing Village
Not far off to the south, 7 km to be exact brings you to Zihuatanejo, a charming old fishing village lined with cobblestone streets, small restaurants, interesting little shops and galleries. This is where most of the local people live who work and service the resort area of Ixtapa. In addition to the many beaches and water sports offered, the waters off Zihatanejo are famed for their abundance of game fish- including sailfish, marlin and rooster fish.